FIDA Ignition Transformer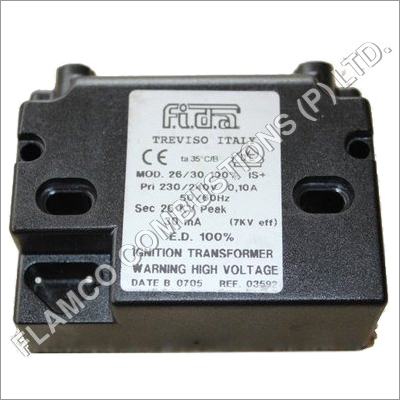 FIDA Ignition Transformer
Product Description
For 18 years, we are betrothed in manufacturing and exporting wide gamut of FIDA Ignition Transformer. It is demanded for use in hydro cleaners, electric mosquito killer and gas & oil burners. Our well-versed team put their huge effort to manufacture this transformer using the finest quality materials keeping in mind industry standards. Besides, this FIDA Ignition Transformer can be availed from us at affordable prices.
Features:
Heat resistance
Strong construction
Hassle-free performance
We are supplier of Fida Ignition transformer . We have stock of all model of it.
TYPE

INTERMITTENCE

STANDARD POWER SUPPLY

HIGH TENSION




V







V

mA

10/20 CM

100 %

230

50

1

2*5000

20

10/ 20 CM

100 %

400

50

0, 6

2*5000

20

10/20 CM

100 %

120

60

1, 8

2*5000

20

12/35 CM

33%

230

50

2, 3

2*5000

35

8/10 CM

100%

230

50

0,5

2*4000

10

8/10 CM

100%

400

50

0,3

2*4000

10

5/18 PM

100%

230

50

0,5

1*5000

18

6/20 PM

100%

120

60

1,15

1*6000

20

10/20 CM

25% su3'

230

50

1,2

2*5000

20

8/ 20 CM

25% su3'

230

50

1

2*4000

20

10/20 CM

33% su 3'

230

50

1,2

2*5000

20

12/20 CM

25% su3'

230

50

1,4

2*6000

20

10/30 CM

15% su 3'

230

50

1,45

2*5000

30

10/30 CM

15% su 3'

120

60

2,7

2*5000

30

6/25 PM

25% su 3'

230

50

1

1*6000

25

8/20PM

25% su 3'

230

50

1

1*8000

20

8/20 PM

25% su 3'

120

60

1,6

1*8000

20

8/30 PM

25% su 3'

230

50

1,4

1*8000

30

8/20 CM

20% su 3'

230

50

0,9

2*4000

20

8/20 PM

20% su 3'

230

50

0,9

1*8000

20

3, 5/10 PM

100 %

120

60

0,39

1*3500

10