COFI Ignition Transformers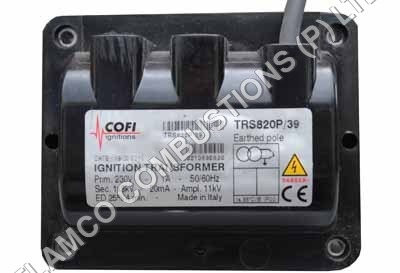 COFI Ignition Transformers
Product Description
COFI Ignition Transformers :-

The COFI transformers are manufactured with top quality choice materials .

The copper wire used for the secondary circuit winding is H 180 degree C Class , while the primary circuit winding is H 200 degree C Class .
The insulation between layers in the high quality voltage coils is ensured by a polyester film with dielectric constant .
The Transformer is then encapsulated with Araldite , a thermosetting epoxy resin resistant to a temperature of over 160 degree C , that offers it high mechanical resistance together with excellent dielectric properties , resistance tpo fuel oils and to chemical agents , very good thermal dissipation and last but not least - elimination of harmful volatile materials from the production cycle .
Below are the model no. to which we deal
Model no.
TRS 1020
TRS 820P

| | | | | | | | | |
| --- | --- | --- | --- | --- | --- | --- | --- | --- |
| TYPE | Supply Voltage V (50 Hz ) | Primary Current A (50 Hz ) | Power VA | Secondary Voltage kV | Secondary Current mA | Secondary Peak Voltage kV | Duty ED % min. | Weight Kg. |
| TRE 820 | 220-230 | 1 | 220 | 2*4 | 20 | 11 | AB20%3min. | 1,3 |
| TRE820 P | 220-230 | 1 | 230 | 1*8 | 20 | 11 | AB20%3min | 1,3 |
| TRS 820 | 220-230 | 1 | 220 | 2*4 | 20 | 11 | AB 25%4min. | 1,9 |
| TRS1020 | 220-230 | 1, 1 | 242 | 2*5 | 20 | 14 | AB25%4min. | 1,9 |
| TRS1020 | 220-230 | 1, 1 | 242 | 2*5 | 20 | 14 | AB33%3min. | 1,9 |
| TRS1030 | 220-230 | 2 | 460 | 2*5 | 30 | 14 | AB25%4min. | 1,9 |
| TRS820P | 220-230 | 1 | 220 | 1*8 | 20 | 11 | AB25%4min. | 1,9 |
| TRS820P US | 120 60Hz | 1,7 | 204 | 1*8 | 20 | 11 | AB25%4min. | 1,9 |
| TRS820PISO | 220-230 | 0,92 | 202 | 1*8 insulated | 20 | 11 | AB33%3min. | 1,9 |
| TRS830P | 220-230 | 1,6 | 352 | 1*8 | 30 | 11 | AB25%min. | 1,9 |
| TRG1020C | 220-230 | 1 | 230 | 2*5 | 20 | 14 | DBContinuous | 2,8 |
| TRG1020C | 380/400 | 0,6 | 240 | 2*5 | 20 | 14 | DBContinuous | 2,8 |
| TRG1035 | 220-230 | 2,1 | 483 | 2*5 | 35 | 14 | AB25%4min. | 2,8 |
| TRG820PC | 220-230 | 1 | 220 | 1*8 | 20 | 11 | DBContinuous | 2,8 |
| TRG1020PC | 220-230 | 1,1 | 242 | 1*10 | 20 | 14 | DBContinuous | 2,8 |
| TRAF1 | 220-240 | 0,07 | 50-60 | 16,8 | 2*12 | 18 | DBContinuous | 0,32 |
| TRAF2 | 220-240 | 0,3 | 50-60 | 69 | 2*12 | 40 | AB33%3min. | 0,32 |
| TRAF1P | 220-240 | 0,1 | 50-60 | | | 20 | DBContinuous | 0,32 |
| TRAF2P | 220-240 | 0,3 | 50-60 | 69 | 1*10 | 38 | AB33%3min. | 0,32 |